Sailing Yachts
Nautilus takes pride in its quality listing. No matter your budget, you should be able to find the boat that is right for you. Every boat listed with us has been checked by our crew of shipwrights, marine mechanics and riggers. Although we do recommend buyers commission an independent surveyor, we make it a point to know as much as possible about the boats we are putting on the market.
Nautilus Yacht Management: the best place to sell your boat… or to buy the boat of your dreams.
For buyers: We will take as much time as you wish to guide you through the various and necessary steps of boat-buying. Our aim at Nautilus is not to just sell boats, it is to make sure that each person who buys or sells a boat with us becomes 'a part of the family'. To achieve this we strive to find the perfect balance between satisfied sellers and happy buyers (and vice-versa!).
For sellers: we will help you get your boat to get the attention she deserves, not just by advertising her over more platforms than any other brokers in the area, but also by giving you a few tips on how to make your boat a bit more competitive on the market-place.

Sail Boats
This Xc 50 is not just beautiful to behold, she hides, beneath her graceful lines the strength and qualities of a very serious extreme explorer. This is for this reason that this French family with two young children decided on this model after years of research and experience as professional sailors. This was for many reasons the best boat for their planned journey, which took them from France to the antipodes over 27,000 nautical miles, across some of the wildest oceans of the world, deep into the 40's and 50's latitudes, across the Atlantic, the windy canals of Patagonia, into the Pacific and across to New Zealand over a two year period. This boat is fully equipped to just step aboard and start your own adventure today.
Read More >>
HANSE 461 in excellent condition, READY TO GO - new electronics, new gel batteries, for sale in Tahiti French Polynesia. Epoxy GRP to prevent osmosis and for superior build quality Proven blue water world cruiser with very high spec including retractable bow thruster, spectra water maker, electric winches, wind generator, solar etc. She is easily sailed with a conventional mainsail and self-tacking jib. This is the tree cabin owners version with two heads and separate shower. Lying French Polynesia and Tax paid Tahiti. An ideal opportunity to enjoy the South Pacific and French Polynesia before heading to the US or New Zealand or Australia. Priced to sell quickly as owner has chosen another larger vessel.
Read More >>
The only unsinkable Yachts in the world! Double-skinned deck and hull provides stable structure. In sail-away condition - High resale value. Fully equipped for extended blue-water cruising. One owner. Never chartered and always privately used. Immaculately presented - Would suit new boat buyer
Read More >>
AFFORDABLE 4 CABIN 40 FEET - CLASSIC AND SOLID BLUEWATER CRUISER ,EQUIPPED FOR LONG DISTANCE SAILING. FULL SURVEY OCTOBER 2019. REPORT AVAILABLE.
Read More >>
Ted's innovative design blends luxurious accommodations and easy sail handling in a fast hull. The Irwin philosophy was simply to build a good boat - make her stylish and fast - stable and comfortable. Irwin was proud to have built more cruising sailboats over 50' than any other boat builder in the world. Over 6,000 yachts have been built. Over 300 Irwin 52, 54, 65, and 68s are sailing around the globe. Freya boasts a 4 sail configuration to include Genoa and storm sail roller furling, in-mast main sail and mizzen sail in a stack pack all controlled from the centre cockpit for easy safe handling. Louis and Jules have delivered both multihulls and catamarans up to 72ft worldwide. As full time sailors and cruisers of 19 years on various sail yachts including trimarans, and catamarans and other monohulls Louis and Jules became very knowledgeable as to what is important for a blue water cruising yacht.
Read More >>
This beautifully presented Swan 48 was purchased in 2014 by her current owners, a family from Italy who chose this yacht as the best they could possibly find to sail around the world in safety and comfort with their very young children.
Read More >>
EXCEPTIONAL PRICE. REDUCED AGAIN. THIS LOVELY YACHT MUST SELL ASAP. All standing rigging replaced in October 2018. Mast / boom attachment (gooseneck) replaced October 2019. Most of the running rigging replaced between 2015 and 2019. Fully battened main sail and Genoa – installed new in 2017, in great condition. Parasail – great cruising spinnaker for light wind sailing, new in 2015, in great condition. Engines in excellent condition with major service done in 2018. Regularly serviced through the boat's life.. 2 X new feathering props by KIwiProps in 2019 (older Volvo props kept as spare). 6kW Northern Lights diesel generator, 3217 hours
Read More >>
TWO OWNERS. NEVER CHARTERED. IMMACULATE PRESENTATION. READY TO CRUISE ANYWHERE NOW, OR TO ENJOY IN FIJI FOR AN UNLIMITED PERIOD OF TIME (TAX PAID). HUGE VOLUME BUT DESIGNED TO BE HANDLED EASILY BY TWO PEOPLE. FULL SURVEY JUNE 2019. FULL NEW RIGGING 2 YEARS AGO. NEW CRUISING ELECTRONICS, VHF AND HF RADIO, SAT PHONE AND ANCHORS 2019. FULLY REPAINTED INSIDE AND HULL POLISH
Read More >>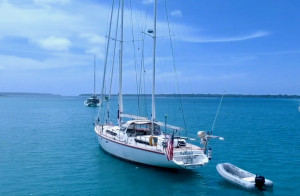 Stored out of the water for 3 years of her life. 4 water-tight bulkheads. Davits, passerelle, heating, air-con, genset, electric furling sails. Low hours 110HP engine at 1700 hours and new turbo charger 2017. Full range of cruising electronics including 24nm radar and AIS type B. Iridium Go! with exterior antenna . Wave wifi booster antenna with wifi router onboard. ST7001 autopilot with 2 separate drives, one rotary and one linear, switchable. Includes a spare control head and a spare SG3 computer for a never down autopilot. Fully equipped for long range cruising and presented in immaculate condition.
Read More >>
Affordable, Excellent ocean cruising catamaran, comfortable and robust. Very neat interior. Kept in dry storage 6-9 months each year after thorough engine fresh water flushing to avoid corrosion. Long list of extra equipment and accessories. This boat is ready to live on and continue cruising.
Read More >>